Making it easy to refill with refreshing free tap water
RefillNZ is an award winning, grass roots campaign that aims to prevent plastic pollution at source by making it easier to refill your reusable water bottle on-the-go.
Tap water in NZ is free, clean, and refreshing – so there's no need to buy bottled water.
Public water fountains can be hard to find, so we're collaborating with epic enviro' friendly cafes, bars, tourist biz, council facilities and more. They all have water available and welcome you in to refill your water bottle for free.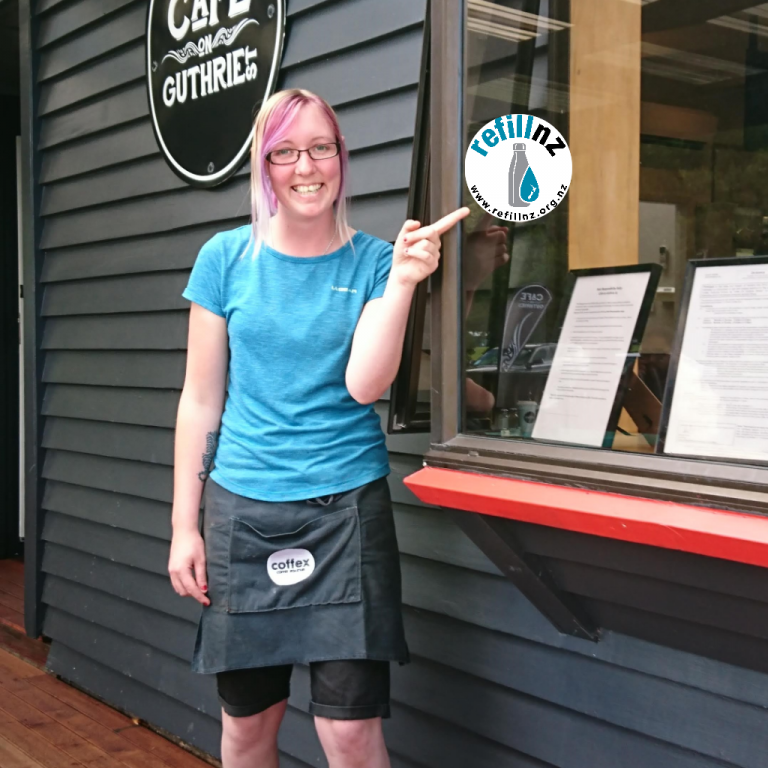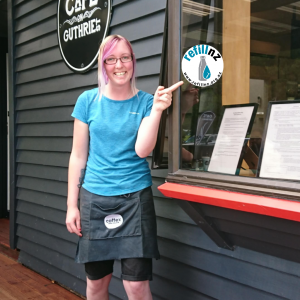 They have a sticker in their window – alerting passers-by that they're welcome to come on in and fill up their bottle.
You can use our website map or app (Apple & Android) to find a RefillNZ Station easily.
Putting the power to reduce single-use plastic pollution in all our hands.
We also have public drinking fountains from some councils on the map.
Our Mission to make Tap Water the Drink of Choice
Prevent single use plastic pollution from water bottles at source.
Make carrying a reusable water bottle 'the new normal'
Help people easily find local Refill stations to refill with refreshing tap water for FREE.
Sign up local business, council facilities throughout Aotearoa as Refill Stations.
Empower people to ask for free tap water.
Give 'everyday activists' a simple way to create change in their communities by setting up a Refill scheme.
Raise awareness of solutions to the plastic problem and reduce plastic pollution in the oceans.
Convert traveller behaviour from buying plastic bottles to refilling their bottles.
Our History
RefillNZ came to life in Wellington in Oct 2018.
It came about after Jill Ford had worked with City to Sea (who founded Refill in the UK) whilst in Bristol UK, and having seen the dreadful plastic pollution around the world she was determined to take action in NZ. She set about tapping shoulders, networking, getting funding and signing up the first cafes in Wellington. Since then RefillNZ has gained more than 1,100 Refill sites on the map , won the Keep NZ Beautiful Community Initiative Award 2019 and was a finalist in the Sustainable Biz Network awards.   For more info  
Owain John was enthused and came on board with Jill; fundraising, signing up cafes and getting RefillNZ online. Owain is now working with squawk squad.co.nz to protect our native birds.
We've had support from great people like Matt and Luke at Halcyon Design (keen surfies) who designed our logo and posters. Balazs and Gabor of Barefoot Web Design who created this web site.  And are collaborating with a wide variety of organisations. To see our partners.