Join the #refillution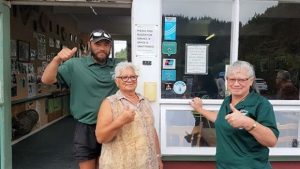 The #refillution movement is spreading throughout Aotearoa, with the help of everyday Kiwis like you.
You can help by enlisting some local cafes and bars, or starting a Refill scheme in your area.
1. Become a RefillNZ Ambassador
Are you:
Concerned about plastic pollution and the effects on a green NZ?
An active user of social media or an influencer?
Excited about being involved in a worthy brand initiative and cause?
Then RefillNZ is for you. You can actively help us reduce plastic pollution by spreading the word to your friends and followers on Instagram/Facebook.
It's simple to get involved. Just sign up six of your local cafes and/or bars and share a photo on your Instagram/Facebook page. In return, you'll receive a free RefillNZ reusable water bottle and get featured on our Facebook/Instagram pages.
2. Start a Local Refill Scheme
Join a growing community of individuals and organisation who are leading the way to cut back on single-use plastics by starting a local Refill Scheme. They empower their local communities to take action; getting the Refill sticker in windows, encouraging people to carry a reusable water bottle.
If you're thinking about starting a Refill Scheme fill in the short form