We'd love to have you on board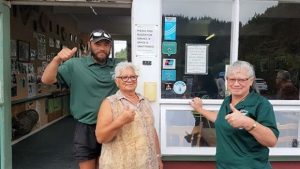 This movement is spreading throughout Aotearoa, and only through the help of everyday kiwis like you.
You can opt to help enlist some local cafes or help grow a Refill scheme in your area.
1. Getting your local cafes on board
Rock on up to your local cafes and see if they'd like to get involved, we can give you some tips about what to say! We can supply you with stickers and some posters, you just need to fill in the online form below and we'll get back in touch.
2. Starting a Local Refill Scheme
Join a growing community of individuals and organisation who are leading the way to cut back on single-use plastics by starting a local Refill Scheme. They empower their local communities to take action; getting the Refill sticker in windows, encouraging people to carry a reusable water bottle.
If you're thinking about starting a Refill Scheme fill in the short form