Helping to keep Aotearoa beautiful – good for biz', good for the enviro'.


Support the #refillution and help grow RefillNZ.  Water bottles to sell or give to clients are a good way to advertise your business, reinforce your commitment to the environment and reduce single use plastic pollution.  We have two types of reusable bottles both last for years; stainless steel or plastic and can be co branded.
750ml stainless steel drink bottle come with the choice of screw top or sipper cap for rehydration on the move and in two shapes.
Plastic bottles – BPA free – 500ml, leak resistant sipper tops.
Pricing (wholesale):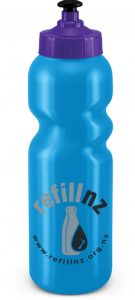 Plastic – two colour
50 bottles – @$10+gst
100 bottles – @$8.50+gst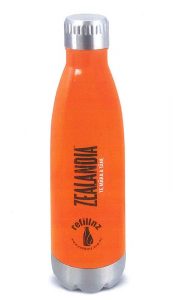 Stainless– one colour
25 bottles @ $18.50  +gst
50 bottles @ $18  + gst
+Delivery
For a minimum order of 50 we can organise co branded in a variety of coloured bottles- there is a slight increase in cost depending on the number of colours.To order  -email jill@refillnz.org.nz 
If you can't stock bottles but would like to contribute $ here's how your money could help;
$200 = 4 social media ads,  $100 = 50 stickers, $75 = 50 posters.
To donate – Give a little / refillnz