We're stoked with the over 160 tourism businesses, I SITES and DOC visitor center's from Northland to Stewart Island, who are supporting you to refill with free wai on tap when travelling around. Helping to keep Aotearoa beautiful and protecting our Taonga from plastic pollution.  Check out the list below.
Plus there are some 600 cafes all over NZ that will let you pop in and refill all the sites are on the map and App.
Tourism Industry Aotearoa is leading the way - they aim to see every New Zealand tourism business committed to sustainability by 2025. Showing Kaitiakitanga  (Guardianship) by restoring, protecting and enhancing our natural environment,
Whether its accommodation, action, exploring our national parks, or a kid friendly attraction there's a refillnz tourist place you can refill. 
What to see, where to go
Explore the caves in Waitomo, visit kiwis at Otorohonga, bungy jump in Taupo, check out the animals at Auckland Zoo, Hobbits in Matamata, swim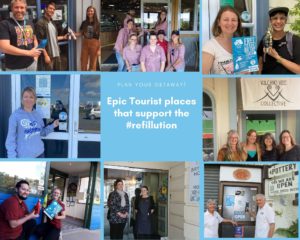 with dolphins in Akaroa, stay at a Top Ten Holiday Park, surf in Raglan (just about every café in Raglan is onboard with RefillNZ), walk the Hump Ridge track down south, kayak in BOP, play MiniGolf in Queenstown, Ski Cardrona (they no longer sell bottled water) or chill in some of the lovely B&B and lodges that's have joined up.
All you need to do is REMEMBER YOUR BOTTLE!
Epic tourist places supporting the #refillution
| | | | | | |
| --- | --- | --- | --- | --- | --- |
| Name | Centre | Name | Centre | Name | Centre |
| Auckland Zoo | Auckland | Hastings top 10 holiday park | Hawke's Bay | The Mussel Inn | Takaka |
| Rotoroa Island | Auckland | Hobbiton Movie Set Tours | Hinuera/ Matamata | Motueka TOP 10 Holiday Park | Tasman |
| NTB TRAVEL | Auckland | Kaikoura i-SITE Visitor Information Centre | Kaikoura | Kaiteriteri Recreation Reserve | Tasman |
| SEA LIFE Kelly Tarlton\'s Aquarium | Auckland | Coastal Sports | Kaikoura | Taumarunui i-SITE | Taumarunui |
| Adventure Capital | Auckland | Ecocentre Kaitaia | Kaitaia | Millennium Hotel & Resort Manuels Taupo | Taupo |
| Heaven's Rest B&B | Auckland | Far North Surf Shop | Kaitaia | Aerius Helicopters | Tauranga |
| Sustainable Coastlines | Auckland | Katikati Community Centre | Katikati | Te Aroha i-SITE Visitor Information Centre | Te Aroha |
| The Rose Centre | Auckland | Kepler Mountain View Alpacas | Manapouri | Te Awamutu Museum | Te Awamutu |
| Skydive Auckland | Auckland | Sea Kayak Adventures | Marlborough | Glowing Adventures | Te Kuiti |
| Kaipara Views Eco Lodge | Auckland | Scenic Hotel Marlborough | Marlborough | Department of Conservation, Kauaeranga Visitor Centre | Thames |
| Takapuna Beach Holiday Park | Auckland | E-Ko Tours | Marlborough | Thames i-SITE | Thames |
| Pakiri Beach Holiday Park | Auckland | The Resurgence Luxury Eco Lodge | Motueka | DOC Kauaeranga Visitor Centre/ Thames | Thames |
| Destination Marlborough | Blenheim | Abel Tasman Lodge | Motueka | DOC Tongariro National Park Visitor Centre | Tongariro |
| Yealands Wines | Blenheim | Off The Beaten Track | MURCHISON | Whakapapa Holiday Park | Tongariro |
| Vintners Retreat | Blenheim | Ahuriri Pharmacy | Napier | Tongariro National TroutCentre | Turangi |
| KG Kayaks | BOP | Full Circle Eco Store | Napier | Turangi Holiday Park | Turangi |
| The Arts Junction | BOP | Scenic Hotel Te Pania | Napier | Tongariro Adventures Ltd | Turangi |
| Cheddar Valley Pottery | BOP | Tongariro Crossing Lodge | National Park | Tokaanu Lodge Motel | Turangi |
| Opotiki Holiday Park | BOP | Nelson City TOP 10 Holiday Park | Nelson | High Country Salmon | Twizel |
| Simply Eco, Ashburton | Canterbury | Jaks island | Nelson | The Falls Retreat | Waihi |
| Akaroa Dolphins | Canterbury | The Pantry Door Stoke | Nelson | Otorohanga i-SITE | Waikato |
| Christchurch Airport | Canterbury | DOC Rotoiti / Nelson Lakes Visitor Centre | Nelson | Destination Cambridge, Cambridge i-SITE | Waikato |
| North South Holiday Park | Canterbury | The Hotel Nelson | Nelson South | Onyx Cambridge | Waikato |
| Adventure South | Canterbury | Kangen Water Training | New Plymouth | Turangi i-Site Visitor Centre | Waikato |
| South Brighton Holiday Park | Canterbury | Dive! Tutukaka | Northland | Otorohanga Kiwi House and Native Bird Park | Waikato |
| Fairlie Holiday Park | Canterbury | Forward Whangarei | Northland | Surfsup Whangamata | Waikato |
| Lake Tekapo Motorcamp | Canterbury | Ohakune i-SITE | Ohakune | Holiday Inn Rotorua | Waikato |
| Twizel Motorcamp | Canterbury | Ohakune I SITE | Ohakune | Taupo Bungy | Waikato |
| Paua World | Canterbury | Nomad Safaris | Otago | Coromandel Discovery | Waikato |
| Adventure South NZ | Canterbury | Brydone Hotel | Otago | Parklands Motor lodge | Waikato |
| Christchurch Holiday Park | Canterbury | Southern Lakes Helicopters | Otago | Clover Raglan | Waikato |
| The Arts Centre Te Matatiki Toi Ora | Canterbury | Queenstown Mini Golf | Otago | Greystone Wines | Waipara |
| Langdale Vineyard Restaurant, West Melton | Canterbury | Lake District Adventures | Otago | Brackenridge Country Retreat & Spa | Wairarapa |
| Leithfield Beach Holiday Park | Canterbury | Te Pātikitiki | Palmerston North | Ruakuri Visitor Centre | Waitomo |
| Waihi i-Site and Gold Discovery Centre | Coromandel | The Herb Farm | Palmerston north | The Legendary Black Water Rafting Company | Waitomo |
| Carey\'s Bay Historic Hotel | Dunedin | Beachcomber Cruises | Picton | Waitomo Glowworm Cave | Waitomo |
| Larnach Castle Ltd. | Dunedin | Envirohub Marlborough | Picton | Waitomo Homestead | Waitomo |
| Gisborne i-SITE Visitor Information Centre | Gisborne | iFLY Queenstown | Queenstown | Monkey farm | Wanaka |
| Tairawhiti Environment Centre | Gisborne | Discover Milford Sound Information Centre & Cafe | Queenstown | Cardrona Alpine Resort | Wanaka |
| Eastwoodhill Arboretum | Gisborne | Queenstown TOP 10 Holiday Park | Queenstown | Puzzling World | Wanaka |
| Kinloch Lodge | Glenorchy | Air Milford | Queenstown | Zealandia | Wellington |
| The Trading Post | Glenorchy | Queenstown Mini Golf | Queenstown | Wellington i-SITE | Wellington |
| Mrs Woolly\'s General Store | Glenorchy | Crowne Plaza | Queenstown | Ross Beach Top 10 Holiday Park | West Coast |
| Breakers Boutique Accommodation | Greymouth | DOC Whakatipu-wai-Māori / Queenstown Visitor Centre | Queenstown | Heartland Hotel Fox Glacier | West Coast |
| Haast River Motels & Holiday Park | Haast | Isobar | Raglan | Heartland Hotel Glacier Country | West Coast |
| Hamilton City Holiday Park | Hamilton | Raglan Backpackers | Raglan | Glacier Base Cafe | West Coast |
| Heartland Ambassador Hotel Hamilton | Hamilton | Raglan Surf Company | Raglan | Fox Glacier TOP 10 Holiday Park | Westland |
| Waikato Museum | Hamilton | The Buried village | Rotorua | Scenic Hotel Franz Josef Glacier | Westland |
| Hanmer Springs TOP 10 Holiday Park | Hanmer Springs | Waiotapu Thermal Wonderland | Rotorua | Awarua / Haast Visitor Centre | Westland |
| Arataki Honey Visitor Centre | Hawkes Bay | Volcano Vibe Collective | Ruapehu | DOC Tititea / Mount Aspiring National Park Visitor Centre | Westland |
| i-SITE Wairoa Visitor Information Centre | Hawkes Bay | The Fort Enfield | Southland | Water Services | Whakatane |
| Cobden Garden Bed and Breakfast | Hawke's Bay | Heartland Hotel Croydon | Southland | Dive Zone Whitianga | Whitianga |
| Harbourview Hotel | Hawke's Bay | Radfords on the Lake | Southland | Earth Store Whitianga | Whitianga |
| REDCLIFFE HOMESTEAD | Hawke's Bay | DOC Rakiura National Park Visitor Centre | Stewart Island | Whitianga i-SITE | Whitianga |
| | | The Honey Shed | Tairua | The Lost Spring | Whitianga |